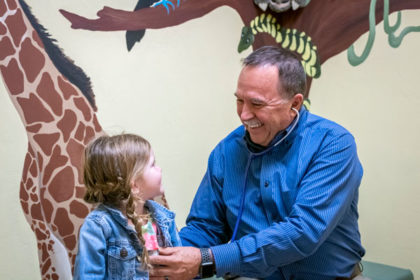 Over my years of practice I often have been asked, "What should a parent consider in choosing the right pediatrician for their children?" I believe that choosing the right pediatrician for your children requires careful thought and a little research.
There are key points you may want to consider. As you begin your search for a pediatrician, try using the following guidelines to help you make your decision. They will give you confidence that you have made the right choice.
Ask for Referrals
Begin by asking your obstetrician for recommendations. Trusted, friends, relatives, and neighbors who have children are also helpful resources. Once you have the names of several pediatricians, you will want to make certain that they are accepting new patients and are listed as providers under your insurance plan.
Check Professional Credentials
It is important that you choose a pediatrician who is board-certifies. Board-certifies doctors are eligible to become a Fellow of the American Academy of Pediatrics. Look for the initials FAAP after their names. This means the pediatrician has completed a prescribed period of residency in the specialty of pediatrics, passed oral and written exams and handled a minimum number of cases. You can verify a pediatrician's board certification and FAAP status by visiting www.azmd.gov and viewing the physician's profile.
Schedule a Get-Acquainted Interview
Call and set up an interview with the pediatrician. Ask the doctor questions that are important to you and your child and pay attention to the way you feel about your interaction. If your child is 2 or older, take him or her along so you can also evaluate the rapport between the two. Is the doctor a good listener? Do you have a sense of trust in the doctor? And finally, does the pediatrician ask about your child's health, home and family?
Other observations: How large is the practice? Are you likely to see different providers at each visit? Does the pediatrician have a special interest in subspecialty? For example, if your child has allergies or asthma, look for a pediatrician who has a special interest in those areas.
Medical Philosophy
Take time to explore the doctor's attitudes about health issues that are important to you. You may want to know the pediatrician's views on the following topics; circumcision, breast feeding, discipline, complementary or alternative health methods, nutrition and diet. You may want to discuss the use of antibiotics and vaccinations. If you have important cultural, religious or moral beliefs related to your child's care, express these to the pediatrician. Is the doctor compassionate and open-minded to your thoughts and feelings?
Physician Availability
When you are caring for a sick child, a physician's availability becomes a critical issue. What is the doctor's policy regarding sick visits and urgent care? What procedure does the doctor recommend in emergency situations? Ask if phone advice is available. If so, who provides it? You may want to inquire about the procedure for contacting the doctor after hours. How long will you have to wait for a non-urgent appointment? Who will cover for your pediatrician while he/she is away?
Practice Location and Hospital Affiliation
Even healthy children may need to see a pediatrician frequently, so consider how convenient the doctor's office is to your home or work. Examine the office facility. Is parking convenient? What is the waiting room like – if it's overcrowded this may signal long waiting times. Are the examination rooms and treatment areas clean and organized? Ask your pediatrician which hospitals he/she is affiliated with. Physician hospital coverage for newborns and older children will vary among pediatricians. You will want to discuss hospital coverage arrangements with the pediatrician.
Ultimately, by investing a few hours of your time, you will have the peace of mind that comes from finding a dedicated partner in helping you raise a healthy, happy child.