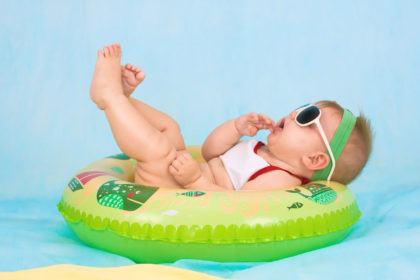 Our children are out of the class room and into the backyard. Playing outside is a summer time fun. But outside playtime comes with sun exposure. Here are a couple of sun safety tips for the summer fun.
Sun Protection
Cover-up. Wear lightweight cotton pants, long-sleeved shirts and hats. Don't forget the shades! Sunglasses look cool and will help shield the eyes from the UV radiation that causes cataracts. Find a medium to dark pair with large lenses that wrap around the sides.
Schedule outdoor time. Plan activities to avoid the time from 10:00 am to 4:00 pm when the UV rays are the strongest.
Carry shade. Use the stroller's umbrellas for little ones or bring a sun umbrella or canopy to create shade when there are no trees or awnings available.
Use Sunscreen. Choose a sunscreen that says "broad spectrum" this means it covers both UVB and UVA rays. Use at least an SPF (Sun protection factor) of 30. Use a sunscreen lotion that contains either zinc oxide or titanium dioxide. Apply 15 to 30 minutes before heading out and re-apply every 2 hours.

For our little ones, less than 6 months: keep them out of direct sunlight because their skin is not yet protected by melanin.
You can apply a small amount on their face and back of hands, but keep them covered with lightweight clothing.
Talk to us about Vitamin D supplements for our breastfed little ones.
Sun Burns
Use cool water to help the skin cool, can apply medicated lotions or aloe to soothe skin, and use Acetaminophen or Ibuprofen for painful sunburns.
If blisters develop from a sunburn, do not pop them.
Hydrate from the inside with extra oral fluids, use water or diluted juice to replace fluid loss.

Resources:
American Academy of Pediatrics. Sun Safety: Information for parents about sunburns & sunscreen. Retrieved from: www.healthychildren.org
Environmental Working Group. Sun safety guide for children. Health child health work. Retrieved from: https://healthychild.org/assets/HCHW_sunsafety_guide_v41.pdf